Alison and Lindsey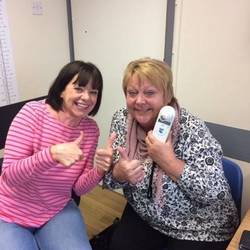 Meet Alison and Lindsey! Both these lovely ladies have reached four weeks smoke free and we are extremely pleased with their carbon monoxide readings.
Lindsey and Alison met accidently in the doctors waiting room at Crofton Health Centre. They were both booked in for one to one support with our Wakefield stop smoking team but decided to attend their appointments together. They both feel that supporting each other in a mini group setting has helped them stay motivated through their journey in stopping smoking.
Well done Alison and Lindsey, your stop smoking advisors are incredibly proud of your hard work, commitment and friendship!